Java Jacket Patent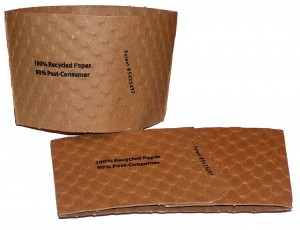 On November 9, 2013 the Java Jacket Utility Patent (US Patent #: 5,425,497 by Jay Sorenson) will go into public domain.  You might ask: Why is this important?  The reason is that this invention, and its success, is a perfect example of American ingenuity.
One spring morning in 1991 Jay Sorensen dropped his daughter off at school and continued to a drive-through restaurant for a morning a cup of coffee. The coffee was too hot for the cup and it landed full force in his lap.  Although scalded and mad, the moment became an "eureka" moment of inspiration.
Sorensen simply identified a need in the marketplace and was able to successfully fill that need and reap the subsequent financial rewards.  Sorensen invented the insulated sleeve to fit around a standard paper coffee cup saving millions of coffee drinkers from burns.  The sleeve was called the Java Jacket for which he obtained patent protection.
Java Jacket, Inc. was incorporated in 1993 by Inventor Sorensen with an investment of just $20,000.  In 2012, 250-million Java Jackets were sold.  The $20,000 investment turned into $8-million plus in revenues.  All from a 3-cent coffee sleeve.
Getting from making crude prototypes at his kitchen table to a successful business making millions of dollars was not without challenges.  Two major hurdles were: 1) discovering that the sleeves needed to be folded flat for shipping and to reduce storage space; and 2) designing the dimpled interior of the sleeve to deflect heat away from a person's hand.
With a patent pending and prototypes done, Sorenson approached Starbucks in the summer of 1993.  Although Starbucks' initial reaction was positive, eight months later negotiations broke off without a deal.  As one door closed, another door opened just in time.  Down to his last $1000.00, Sorenson got an order for 10,000 Java Jackets from Coffee People.  The order literally saved the company.
The next obstacle was the coffee giant Starbucks once again.  The company who negotiated for eight months without doing anything, began testing a coffee cup sleeve of their own.  Sorensen filed a cease-and-desist order.  Starbucks complied but continued to design their own Coffee Clutch to legally circumvent Java Jacket's patent.  Starbuck's "Coffee Clutch" later received a patent.
Although the two patented products look nearly the same and perform exactly the same function, there are patentable differences.  Starbucks' Coffee Clutch uses corrugated paper.  The Java Jacket uses dimpled embossed chipboard for improved insulation.  Fortunately, the marketplace is big enough for more than one coffee cup sleeve.  Both products are financially successful.  And patent-wise, both products are different in construction, materials and design.
So, come November 9, the Java Jacket patent expires meaning that any company can begin making the Java Jacket as described in patent #: 5,425,497 without infringing.  This is not a major concern for Sorenson because he has the production, the distribution and the orders in place fend off competitors.  The end of a patent term doesn't necessarily mean the end of making money.